Introducing our FEBRUARY Fellowship Society honored TEAM OF THE MONTH!
Australian Wandarrah
https://www.etsy.com/au/teams/8520/australian-wandarrah
//
Australian Wandarrah is a moderated team open to both buyers and sellers living in Austrailia and New Zealand. A large team of over 1,600 members, treating each other with respect and compassion is the most important guideline of this spirited team.

The word Wandarrah is an aboriginal word meaning Meeting Place. Members support each other through thick and thin on this team. The team has also raised funds for the NSW Wildfires in 2013, and for the Street Swags in 2014. In 2014 they hosted regional meet-ups! Not a small task with the team covering 2 countries.
With such a large team, 1,675 members, you know they must have some amazing Leaders!
The Captain of the team is Cat. Her shop, Must Have Been The Cat, can be seen here:
https://www.etsy.com/shop/MustHaveBeenTheCat

Cat is a giving and kind soul who works hard to keep the team running smoothly.
She's told us that she created the team because at that time there was nothing available for Australians on Etsy.  She wanted it to be a supportive community for both buyers and sellers in Australia and is very proud and humbled by the amazing community that has evolved.
We provide a huge range of activities including chat, games, promo and educational resources. Everyone is kind and supportive …its like one very large functional family.
She has many Etsy shops and is always thinking up new ideas
www.MustHaveBeenTheCat.etsy.com
www.MissTreeCreations.etsy.com
www.FeltLikeChristmas.etsy.com
www.MustHaveBeenTheDog.etsy.com
www.KidsVintageBooks.etsy.com
www.MissTreeAccessories.etsy.com
When we asked her what her goals for the team in the future this is what she said
"In 5 years I hope that our team is still going strong and continuing to offer the variety of things we do today. I hope it will have helped our team members make their shops the success they want them to be and continues to support them and give them a sense of belonging."
We love hearing that long term dedication she has to support this group!
That is part of being a captain that many people don't understand, it's a long term commitment for many of us and that takes a lot of time and volunteer hours.
Her second in command is Kelly.
Kelly runs the team's challenge treasury and is charged with maintaining the team's curated page. Kelly's shop can be visited by clicking the link: https://www.etsy.com/shop/ColourscapeStudios

Hannah From Banana Apple Orange (a member of the Pattern Patter Team too!) Runs the "Word of the Week" Treasury Challenge.
https://www.etsy.com/shop/BananaOrangeApple

Kaz from Kazzy Caboddles Creations runs the "Colour of the Week" treasury challenge and maintains the team Instagram account.
https://www.etsy.com/shop/kazzycaboodles

Stuart from Stuart Concepts maintains a list of team member's items that are used to create treasuries. Visit Stuart here: https://www.etsy.com/shop/stuartconcepts

Andrea from Stitch Bomb helps where ever she's needed in addition to maintaining the Spotlight Critique thread and helping Stuart with the Members Items list.
https://www.etsy.com/shop/StitchBomb

Star from Starzyia Manages the team's Pinterest Boards as well as being a supportive leader helping wherever she can.
https://www.etsy.com/shop/Starzyia
https://www.facebook.com/AustralianWandarrahTeam
You can finds a selection of their items in our team page collection created especially for you here: https://www.etsy.com/au/pages/shopaustralia/etsy-fellowship-promotion If you have any queries please contact the seller directly 🙂
This Team does a lot of Wonderful TREASURY CHALLENGES
Have you ever wondered how one works? we'd love to show you
Australian Wandarrah
Team Treasury Challenge Monday 2nd February – 6th February 2015
Original Post Link:
The Post is open Monday – Friday
Each week the winner of the treasury challenge will get to choose an item from their shop to be the inspiration item for the next challenge. They will also be choosing the winner of the challenge.
Guidelines:
– The featured item must appear in one of the top row of the treasury
– Treasuries to be tagged with "Australian Wandarrah", "etsyau" and "awteamchallenge"
– All 16 spots must be filled, at least 8 of those with Australian/New Zealand shops
– Post your challenge treasury in this thread to be considered
– No items from your own shop(s)
– Only ONE item per shop featured
– Winners must wait 4 week to be eligible to win again, however everyone is eligible for honorable mentions.
Please note that any Treasuries not following the guidelines will be removed from the challenge, we want this to be fair to everyone participating.
SUBMISSION DEADLINE is 9pm each Friday evening, no entries after I've announced the challenge is over will be admissible.
Winner will be announced over the weekend, so please make sure you check back to this thread and see if it's you!
This week our featured seller is Sue from www.etsy.com/au/shop/pinkneonvintage and her featured item is: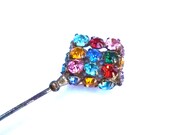 Vintage 1920's Diamante Hat Pin, Hatpin, Lapel Pin, Coa…
$35.89 USD
Some of the treasuries made:
www.etsy.com/treasury/NDc3MDgzMjR8MjcyNzIyNTg1MA/city-living
www.etsy.com/treasury/MjY2OTc3NjR8MjcyNzIyNjA3MA/colour-pop
//
For the fellowship society readers, we have an awesome team coupon code promotion that's valid for the month of February. Use " WandarrahsFriend " at these selected
shops:
https://www.etsy.com/shop/20FourAcres – 20% off https://www.etsy.com/shop/ColourscapeStudios – 20% off (purchases over $15) https://www.etsy.com/shop/TigsTogs – Free Shipping https://www.etsy.com/shop/Starzyia – 15% off https://www.etsy.com/shop/BeLuliDesigns – 10% off (purchases over $30) https://www.etsy.com/shop/MustHaveBeenTheCat – 10% Off https://www.etsy.com/shop/MustHaveBeenTheDog – 10% Off https://www.etsy.com/shop/MissTreeCreations – 10% Off https://www.etsy.com/shop/ELCEDesigns – 10% Off (purchases over $20) https://www.etsy.com/shop/FoilingStar – 10% Off (excluding Wedding Cake Wraps) https://www.etsy.com/shop/gtgadabout – 10% Off https://www.etsy.com/shop/DeeDeeDeesigns – 15% Off https://www.etsy.com/shop/MadeforYOUbyFi – 10% Off (purchases over $30) https://www.etsy.com/shop/AuroraMelbourne – 10% Off https://www.etsy.com/shop/AnnaCullArt – 10% Off https://www.etsy.com/shop/SallyAnnaBoutique – 10% Off https://www.etsy.com/shop/BoutiqueLittleOnes – 10% Off (purchases over $20) https://www.etsy.com/shop/DotStitch – 10% Off https://www.etsy.com/shop/OnceUponATimeDaniela – 15% Off https://www.etsy.com/shop/BelleBabette – Free shipping https://www.etsy.com/shop/ElizabethEllenor – 10% Off https://www.etsy.com/shop/RockmyResin – 10% Off https://www.etsy.com/shop/stuartconcepts – 10% Off https://www.etsy.com/shop/HalfBaked – 10% Off https://www.etsy.com/shop/kazzycaboodles – 10% Off https://www.etsy.com/shop/StephsQuilts – 10% Off https://www.etsy.com/shop/ARTDECADENCE – 15% Off https://www.etsy.com/shop/Mettaville – 10% Off https://www.etsy.com/shop/MyVintageDesires – 10% Off https://www.etsy.com/shop/BygoneAllure – 10% Off https://www.etsy.com/shop/morethanjustquilts – 10% Off https://www.etsy.com/shop/BlackTulipQuilts2 – 10% Off https://www.etsy.com/au/shop/blacktulipquilts – 10% Off https://www.etsy.com/shop/AzaleaCottageCrafts- 10% Off https://www.etsy.com/shop/EJCDezines – 10% Off https://www.etsy.com/shop/bonmotshop – 10% Off https://www.etsy.com/shop/TangerineToes – 10% Off https://www.etsy.com/shop/zollyshoppe – 10% Off https://www.etsy.com/shop/CatandtheBird – 10% Off (purchases over $10) https://www.etsy.com/shop/FozzelandBean – 10% Off https://www.etsy.com/shop/ThingzNstufff – Free Shipping https://www.etsy.com/shop/Twogratefulhearts – 10% Off https://www.etsy.com/shop/myheavenlydesigns – Free standard shipping (excluding custom orders) https://www.etsy.com/shop/RobynFayeDesigns – 10% Off https://www.etsy.com/shop/MyPaperPlanetCrafts – 10% Off https://www.etsy.com/shop/MyPaperPlanet – 10% Off https://www.etsy.com/shop/EchidnaArtandCards – 15% Off https://www.etsy.com/shop/FourLittleButtons – 10% Off (purchases over $20) https://www.etsy.com/shop/MissDaintyHQ – Free shipping (purchases over $20) https://www.etsy.com/shop/MissMarleyBoutique – 10% Off (purchases over $20) https://www.etsy.com/shop/Travellingalice – 20% Off (purchases over $20)